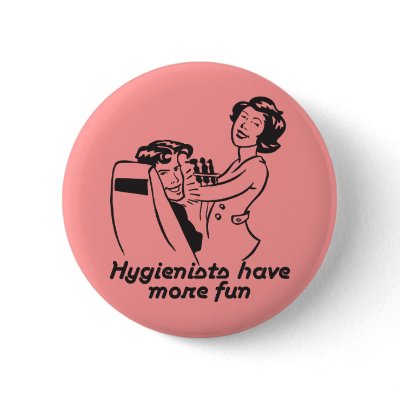 Ever wonder who all of the people are running around your West Seattle dentist, Dr. Christine Kirchner's office?  October is National Dental Hygiene month, and so today we will be discussing the differences between all the different roles in the dentist office.
A dental hygienist is a licensed oral health professional that focuses on preventing and treating oral diseases.  This will not only protect the patient's teeth and gums, but also their overall total health.  They go to college to get their education and graduate from accredited dental hygiene education programs.  They must also take a written national board exam AND a clinical exam before they can get their license to practice.  Phew!  I'm glad to know we have such smart cookies working at the office!
So who are they dental hygienists?  These ladies are the ones that you come to get a cleaning with every six months.  They assess your oral health and go from there to get your all cleaned up.  They scrape all the plaque and tarter off your teeth and below the gum line.  They work with you to create a custom home care routine so you can keep your mouth healthy until your next cleaning.  They are super smart and dedicated to making sure that you maintain overall health through having a healthy mouth!
A dental assistant is a registered oral health professional that assists the dentist in all of the procedures in the office.  They maintain the cleanliness of the office, called infection control, and make sure that the schedule runs smoothly.  They assist the dentist chairside for things such as fillings, etc, but can also jump over and help a hygienist if necessary.  They maintain records and supplies and also can help instruct patients on proper oral hygiene and post-treatment care.  They can either be trained on the job, or attend a vocational training type program to learn about becoming a dental assistant.
Now the dentist, phew, that is a whole blog post in and of itself.  They attend both regular school and then dental school, depending on their specialty anywhere from 7-10 years of schooling.  They specialize in the care of teeth, gums, and mouths.   They are licensed to do anything from just cleaning your teeth to pulling a tooth if the diagnosis is necessary, to placing an implant in your gums.  A dentist tries to prevent this though by educating you, in tandem with the dental hygienist, on the best ways to maintain the health of your mouth.  If a cavity occurs though, they can simply step in and fix the cavity to prevent further damage to your teeth.
What is most important to all three of these professions is educating you, the patient, about the health of your mouth, and how to maintain it.  Want to see if you can pick out who's who in our dental office?   Give the office a call today to make an appointment!
For more thourough information on everyone's specific duties, you can click here for a dental hygienist, here for a dental assistant, and here for a dentist!